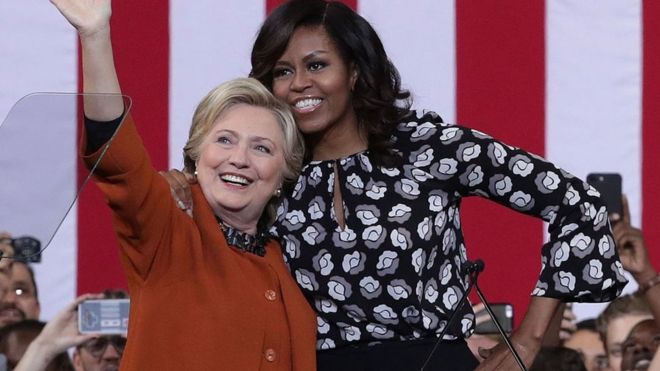 During surprise video to honor @ElizabethBanks, @HillaryClinton offers desire to see @WonderWomanFilm @PattyJenks #CrystalLucys @WomenInFilm pic.twitter.com/IbecmyGDJz

— Chris Gardner (@chrissgardner) June 14, 2017
"Your commitment to lifting up women directors, producers, writers, composers and executives has made such a difference," she said.
Referring to Wonder Woman, "something tells me that a movie about a strong powerful woman fighting to save the world from a massive international disaster is right up my alley," she added.
.@MichelleObama sends a video message to @TraceeEllisRoss to celebrate her @WomenInFilm award. "See you on the dance floor" #CrystalLucys pic.twitter.com/nWyrhyiaQw

— Carly Mallenbaum (@ThatGirlCarly) June 14, 2017
"You are brilliant, you are hilarious, you're one of the most talented actors I know, and your character on Black-ish, Bow, is an inspiration all across this country. And the work you're doing offscreen is just as remarkable. From empowering our girls to educating people about the importance of voting, thank you. Thank you for using your voice to change so many lives," Obama lauded.
"See you on the dance floor," she joked at the end.